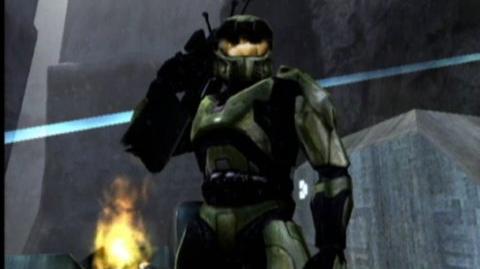 [[File:250px-Halobox.jpg|frame|Cover Art for Halo: Combat Evolved was a launch game for the Xbox and the entire Halo franchise. It was developed by Bungie and released by Microsoft Game Studios in 2002 but had no online as it only had a campaign and local multiplayer
The game's events takes place 27 years into a war between the UNSC (United Narions Space Command), an emergency government that took over when the war started, and the Covenant, a religous group of alien species that are obsessed by the Forerunners, a wise and powerful species that disappeared an left the Halo Rings as a way to them. You are Spartan John 117 or the 'Master Chief' and have just escaped the destruction of Reach by the Covenant aboard he UNSC Pillar of Autumn. They are followed by a fleet of covenant ships which then board the craft and take it over whilst you and other crew members escape in the escape pods. You land on the ring world that is known as Halo and together with the AI Cortana you fight the Covenant and a dark secret that should of been wiped from the galaxy called the Flood, a parsitic life form that feeds off of sentient life. In order to save the rst of the galax rom this terrible evil you fight your way to the crashed Pillar of Autumn and detonate its slip-space drive destroying the ring world and the Flood
Development
Edit
The Game was developed by Bungie Studios in 1999 when it was announced that the game Halo was going to be released on the Mac OS and Windows PC. in 2000 they reveled the first trailer which revealed to be a third person action game where a transport ship crash lands onto a mysterious ring world that orbits a star. Later that same year, Bungie Studios was aquired mby Microsoft and Bungie rewrote the entire engine to make it a first person shooter and it was made an exclusive for Microsoft's Xbox console. The multiplayer, originally a key element, was dropped because Xbox Live would be unfinished by the time Halo released.
In 2002, a port of the game to Windows  was announced to be under development by Gearbox Software. At E3 2003 it was recieved positively by some and met with  skepticism by others. It was released on September 30, 2003 and it came with support for online multiplayer and sharper graphics but was crtiticised for compatibility issues and poor performance. It was later released on  the Mac OS X on December 7, 2003 and on Games on Demand for the Xbox 360 on December 4, 2007.
Reception
Edit
Recpion from critics
   Aggregate scores
Aggregator
Score
GameRankings

(Xbox) 95.54%

(PC) 85.93%

Metacritic

(Xbox) 97/100

(PC) 83/100

Review scores

Publication
Score
Edge
10/10
EuroGamer
8/10
Famitsu
33/40
Game informer
9.5/10
GameSpot
9.7/10 (Editor's choice)

GameSpy

85/100
IGN
9.7/10 (Editor's Choice and Game of the Year 2001)
Awards         
Publication
Award
2002 Game Developers Choice Awards Excellence in Audio

5th Annual Interactive Achievement Awards: Console and Overall Game of the Year.

Console Action/Adventure Visual Engineering

2000 Game Critics Awards. Best Action Game
On its release, Halo broke sales records; on April 8, 2002, little under five months after its release. one million units had been sold
Ad blocker interference detected!
Wikia is a free-to-use site that makes money from advertising. We have a modified experience for viewers using ad blockers

Wikia is not accessible if you've made further modifications. Remove the custom ad blocker rule(s) and the page will load as expected.